I had a lot of fun writing up my "wonderful Wednesday" post last week; so much so that I thought it would be nice to do a midweek round up again. I can't guarantee I'll do one every week, but I'll try. (On that note, what day do you consider to be the "middle" of the week? I usually think of it as Wednesday, since that's the middle of the traditional work week – but I haven't got a traditional work week. Even when I worked outside the home, I was in retail management, then property management, so my schedule wasn't a nine-to-five, Monday through Friday gig. But I digress….)
Here's some stuff that will hopefully give you a smile or something to ponder from my week thus far:
First of all, who can resist cute puppy and kitty pictures – especially when there's so much negativity on ye olde interwebs these days? I give you – Courtesy Cute Dog Photo: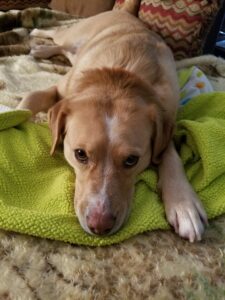 She looks a little downtrodden, doesn't she? In her defense, we had just gotten back from the vet's office. I'd share what she had done, but trust me, you don't want to think those things. Don't worry, though – it's a routine procedure and she's not ill. Feeling violated, yes, but not ill. (And for those dog people out there, she's a five-year-old Lab and Fox Hound mix, adopted from a shelter a little over four years back. She has the lab "woodle", not the hound bay. As she will tell you quite passionately, she is a goooo oooo oood girl who likes to goooo in the Subaru ru ru.) 😀
What are you reading and crafting this week? I'm about halfway through Give Your Child the World now (just started the North America section) on Kindle, and I'm a very few pages into Heat & Light. That one seems like something that I'll need to really dedicate quiet time to; I just don't feel like I'd be able to read it in earnest at the kids' activities so it's been waiting patiently in the book basket for a calmer time of the week.
If you haven't already noticed the Blogroll tab here on my site, I'd like to encourage you to go check it out. The blogosphere is chock full of amazing people – I bet you'll stumble across a few that you'll enjoy reading as much as I do. I'm adding to it whenever I find blogs that I enjoy, so keep refreshing when you head to that page. For online reading this week, I'd recommend:
One last thing before you go: a friend and I have been discussing locavores and what kind of things one could source locally – and what ONE item we could individually commit to buying from local sources. Some folks are in spaces where they can grow larger gardens and raise livestock; others, like me, are in situations where livestock isn't authorized but container gardens are. If you're not already hyperlocal, can you think of something that you could source locally, and will you commit to doing so – maybe for one month, maybe for a season or a year? I'd love to hear from you in the comments on this, as I'll be sharing some of our efforts in the coming months on just this matter. First I'll bring some posts in from my old blog so you can see what we've done in our current area, but once we get moved and settled, I'll share what we can come up with in our new region. I must say that the technology of today makes PCS's (Permanent Changes of Station) exponentially easier for military families; I've already connected with the local homeschool group, figured out where the farmers market meets, and gotten info on a town food co-op that sources as much as they can locally. It's going to be interesting how our garden changes as well, since we'll be reversing our climate type completely for the fourth time since 2008!
Happy Thursday, everyone!