I'm joining Keep Calm Craft On (at Frontier Dreams) and Yarn Along (at Small Things) again this week – and boy, do I have things to share! First up, a finished project: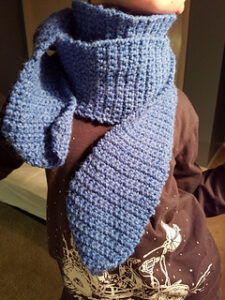 That's the crocheted scarf I've been working on a bit at a time each week when we go to my folks' house for lunch. There's one in the donation basket for the Warm County efforts – WOOHOO!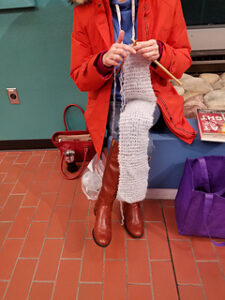 Next there's my simple knit scarf, which I'm making for a friend's daughter. She gifted me a whole hat box full of super soft mohair; so far I've made a shawl for her, and my daughter knit a scarf for her younger daughter as a welcome gift when she aged up into our church young women's group (for ages 12+). This scarf will be for her older daughter. When all is said and done, I'll also knit a shawl for myself with the leftovers. Yes, there was THAT MUCH yarn in the box! It will be a cozy reminder of their family when I've moved. And if you look closely, you'll see the library copy of Heat & Light from last week's post. (And for those who are wondering, I had my son take the picture – he's not a bad photographer; my face is absent since the photo was going on Ravelry and this blog.)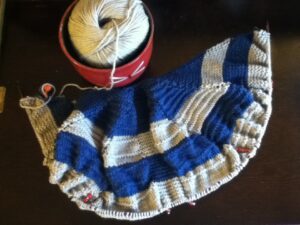 Last but not least, is my Knúsa shawl. It's officially well past halfway done and at over 225 stitches it's pretty hard to get a good picture of. As you can see, in order to stretch it out further, I'd have to take it off the circular! Noooope… I think we can all agree that iffy pictures are okay until it's ready to bind off safely instead. 😉
On to the books, as I've got a whole handful I'm working through right now. First of all, in print is Heat & Light, as mentioned previously. In digital format are Give Your Child the World and The Latter-day Morning on Kindle and Sustainability Starts at Home on my laptop (part of the Back to Basics eBook Bundle, which I purchased earlier this month). My son is listening to Elon Musk on audiobook from Overdrive, so I've been able to hear bits and pieces of that while driving and knitting. I also finished several other books since my last post – if you'd like to see what I've read during the month of January, just click over to my Reading List tab!
So what are you crafting and reading this week?