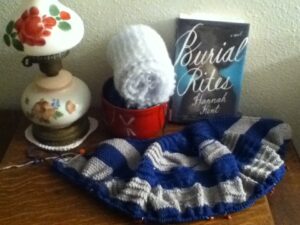 Joining Ginny at Small Things for Yarn Along today. Last night I finished the simple knit scarf for a friend's daughter; just need to weave in a few ends and I can pass it along to her this weekend. I'm about 60% done with the Knúsa shawl. I love it, but I'm at such a high stitch count (for me) that each row takes a very long time. I look forward to learning to knit Continental and continue learning Portuguese style so I can speed things up and hopefully preserve my hand joints a bit more.
On the reading list: I finished Heat & Light and a few eBooks – they are listed on my 2017 booklist page. Now I'm reading Burial Rites in print and SoulSpace by Xorin Balbes on Overdrive. I still have a whole pile of PDF books from the Back to Basics bundle to work through as well – I think I will read Six Dollar Family next.
What are you crafting and reading this week?