Joining Nicole at Frontier Dreams for Keep Calm Craft On and Ginny at Small Things for Yarn Along. True confession: last week required a lot of keeping calm in order to craft on! I had the opportunity to attend two classes at Madrona Fiber Arts Retreat in Tacoma, WA, this past weekend and I actually have a nice chunk of pictures for you!
My first class was Lapland Hand Garments with Susanna Hansson and boy, was that a STRETCH for my skills! Luckily for me even the advanced knitters in the group had questions and concerns, and the second day I felt much more at ease. Plus serendipity stepped in and the seat I chose happened to be next to a lady who not only knits beautifully, but teaches knitting as well – she very kindly helped explain some things I didn't understand and walked me through two points where I got stuck on the project. (Bless you, Ann – you were wonderful!)
That was a nine hour class and I walked away with two barely-started wristlets; one in our sample size (knit with worsted yarn on larger needles to learn the technique) and one in our final size (knit with toothpicks and string – er, sock needles and 2-ply LOL).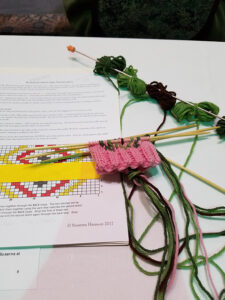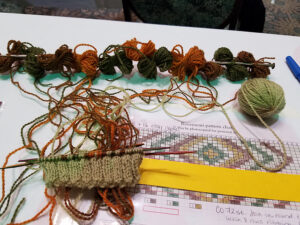 I also have a handful of new knitting skills, including creating the butterflies and setting them up for the colorwork, slightly better chart reading skills (charts are not my forté – that's why I quit my mother's beloved counted cross stitch!), and a few other things that I can't quite put words to. It was definitely a big challenge for me, but I'm glad I did it, and I do plan to finish both sets of wristlets. The practice set will surely keep someone warm, and the colors of the yarn remnants my friend sent me to work with actually gave me a selection that is rather cute and garden-themed. (Thank you, Bethany!)
The second class I took was Bow Loom Weaving with Marilyn Romatka. What an experience! I was the first one in the room so I got first pick of supplies – that came in quite handy, though it was hard because of all the lovely colors of beads and thread. I went with what I was most drawn to, but each person's project made me think I should have chosen otherwise. Everyone's combo was beautiful, no matter what they chose.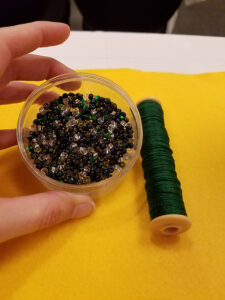 As a wanna-be weaver, I gleaned so much from both the class itself (starting with a small project helped me learn concepts and skills I've only read about so far) but also from the instructor and the other students, the bulk of whom are large-loom weavers already. I definitely hope to continue with the bow loom and have ideas for gifts for several people now, even one that will expand outside of the bracelet pattern I learned. (Well…. hopefully…..)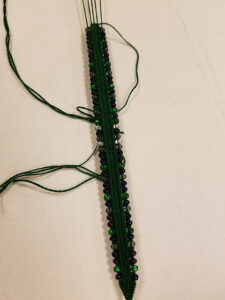 Don't worry, I haven't given up on the projects I was working on previously. I passed on the simple mohair scarf to my friend for her daughter two Sundays ago, and now that I'm done with Madrona, I'm back to chugging along on the Knúsa Shawl. I'm now 71% done with Knúsa and while I hope to complete it by the 28th for the 2017 destash knit along I'm in, I don't know that I can quite make it. I had to take breaks from it earlier this month because I felt the strain of the repetitive stress quite badly, and I can't afford to do that again. I'm giving myself grace to do what I can and no more on Knúsa, knowing that my hand and arm health is more important than being entered in a prize drawing, and that the lovely folks in the destash group will celebrate the completion of the project (and the use of a good five skeins of stash yarn!) with me just as much a few days after as they would by our official deadline. It's sort of about the KAL/CALs, but much more about the finishing of objects and using up of stash, and they are delightful in cheering everyone on, no matter what our speed, ability, or project difficulty. Anyway, just imagine this picture from two weeks back has another big band of gray knit onto it – I am almost done with my last repeat of gray and hoping it makes it through the four rows I have left to do with it. (Yarn chicken – eeeeek!)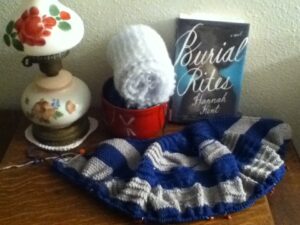 As for reading – well, this past week and weekend was focused on knitting my prep work for Madrona and then the projects thereof, and Knúsa – so as shocking as it may be, I've gotten nowhere on any books. (GASP!) I will go and update my 2017 reading list page real quickly so you can see what I finished off before I realized two days before the retreat that I had, gulp, prep work to knit up.
What are you crafting and reading these days?