Each week Brandy at The Prudent Homemaker shares her frugal accomplishments from the previous week. There is so much inspiration and encouragement in her posts and the many comments from her readers. Here's a little run down of our frugal happenings for the past week:
Used hotel points that were about to expire to order a $25 gift card that will be used as a gift for a family member.
Ate most meals from the pantry/freezer.
My son used the last of an Amazon gift card (a Christmas gift to the whole family) to select his Christmas gifts; I did a trial of Prime to get him free two-day shipping. When the last item arrives, I will cancel the trial.
Received a $24 utility rebate – put it in savings.
Drove as little as possible: one of my daughter's weekly activities was cancelled, and my parents are sick, so we didn't go to lunch with them. Two trips off the calendar and the fuel stayed in the tank.
Watched a YouTube series a friend told me about, called How to Make a Suit from Scratch. Loved it!
Consolidated errands into one day, in a loop of a certain town, to save diesel – and all of them were frugal errands, too: we picked up my daughter from where she was cleaning with her youth group (a leader picked her up in the morning); went to the library to drop off books, check out books and use the computers (free); went to Office Depot and purchased printer ink ($10 off $50 coupon) and set up a Rewards account (earned $18 by returning 9 cartridges for recycling); went to Hobby Lobby where I got a frame and mat for a print (more on that in a moment!), and dropped off some items at the base library on our way home.
Framed a wood block print we bought in Japan years ago for $26. The paper the print was done on has rough edges that I didn't want covered by a mat, so I purchased a shadowbox (priced $23.99) and a framer cut a light blue mat to size as a backing ($14) while we waited. When we went to check out, it turned out that frames were 50% off, so the shadowbox was $12! I mounted the print with archival supplies I already had on hand from my scrapbooking days and am thrilled with how well it turned out.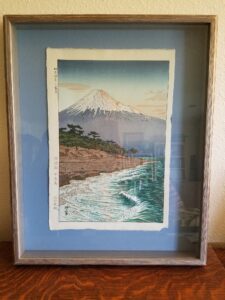 What do you think? 😀