Just for fun, here's a little list of random bits and bobs I've come across (or done) this week: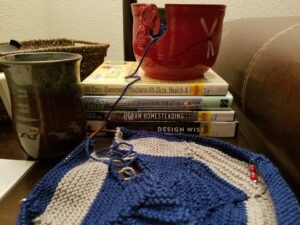 The above picture is a picture that makes me very happy, indeed! While my daughter was taking a free crochet class at the library, the Bubby and I hit the stacks. I picked up Vern Yip's Design Wise; The Urban Homesteading Cookbook; Wheat Belly 10-Day Grain Detox; and 101 Easy Homemade Products for your Skin, Health & Home. I've already finished Design Wise – some loooovely photos and great tips for decorating, no matter what your style. See those two pieces of pottery? The yarn bowl is from Knitting Lagniappe – I purchased it at a fiber festival in Texas a few years back and so enjoy using it. The piece on the left is a mug I received for Christmas; instead of a handle, it has a piece that wraps around your hand so you can use the whole mug as a hand warmer. Perfect for my cold hands and achy joints! (If this sounds useful, my folks ordered it from Lehman's. It was hand made by a potter in Washington state.) Lastly, those of you with sharp eyes may have noticed that my shawl is larger than it was Tuesday morning – eight more rows done on the Knúsa!
If you haven't already noticed the Blogroll tab here on my site, I'd like to encourage you to go check it out. The blogosphere is chock full of amazing people – I bet you'll stumble across a few that you'll enjoy reading as much as I do. To get you started, I'd recommend:
One last thing before you go: remember that post of mine about how my Uber Frugal Month was going? I got my final statement from the phone company and my official balance due is -$3.20! Not much, but I'll gladly take that check and stick it in savings. Every little bit counts, right?
Happy Wednesday, everyone!