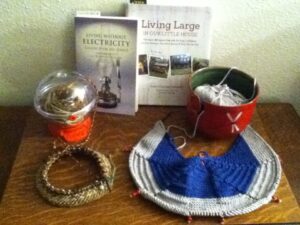 Some of my favorite posts each week are Keep Calm Craft On at Frontier Dreams and Yarn Along at Small Things. I love having the opportunity to peek into other people's craft rooms and yarn bags and see what they are working on and reading. I always see such lovely work and find something interesting to look up at the library or bookstore. I also so enjoy sharing my current projects and what I'm reading. I may not always participate with my own posts, but I hope that you'll enjoy these little vignettes when I can share them with you. Here's to books and crafts; lovely words and handmade goodies; visiting new blogs and making new friends!
This week I'm working through a couple of books my mom loaned me: Living Large in Our Little House and Living Without Electricity: Lessons from the Amish. Not shown is my current Kindle read, Give Your Child the World: Raising Globally Minded Kids One Book at a Time. The projects I'm working on are the Knúsa shawl (from the current issue of Taproot magazine) for myself and a Baby Amanda hat for donation.
Want to see more great books and awesome projects? Visit Frontier Dreams and Small Things to join in or just peruse the amazing things everyone else is making!